Vetle (18) has joined our team as he began his apprenticeship this week. Vetle will be the first apprentice we have had at Glassfiber Produkter, and he wants to graduate in production technology. He has studied technology and industrial production at Bryne High School, and the second year he went to Dalane High School where he studied industrial technology. This means he has a good foundation to utilize when he does the practical work.
"I'm really looking forward to actually making things, seeing how we work from idea and concept to finished products. I do not have much knowledge about fiberglass but am really looking forward to learning more about the material. Fiberglass has many good properties, and I will learn how to utilize it in the best possible way, "says Vetle.
We got to know Vetle when he was here on a small apprenticeship a few weeks ago. Now he will be a full-time apprentice with us for the next two years, and during this period he will gain a lot of practical experience as well as thorough training.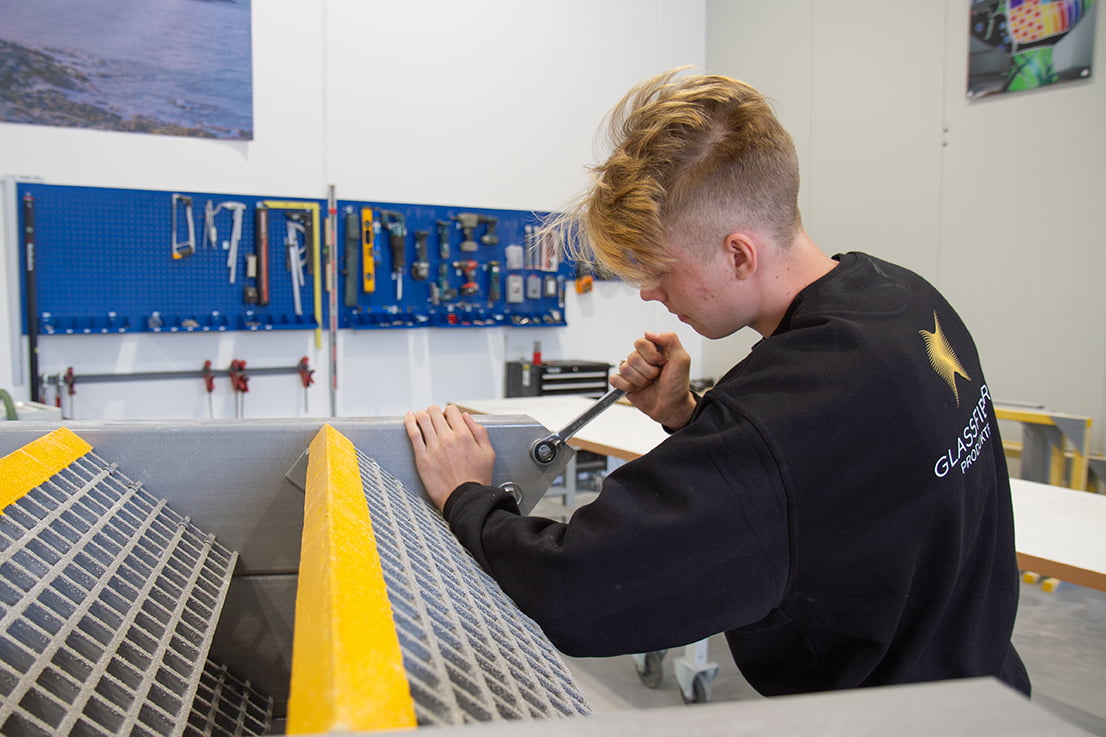 Corporate social responsibility
We at Glassfiber Produkter take part in social responsibility. Starting as an apprentice gives young people a solid chance to learn and develop key skills together with other professionals in the industry. Our skilled team at the workshop will answer any questions he may have. He will also receive a thorough introduction to various routines and safety measures, which is a high priority for us.
Value for business
Having an apprentice is also very positive for the company. They bring with them a breath of fresh air in the form of new thoughts, ideas and expertise. They may have different perspectives on challenges and problem solving, which can be of great value to even the most experienced. They ooze positivity, enthusiasm and have a great willingness to learn.
We are happy to have Vetle on the team, and we believe that he will be an important resource for us in the future.